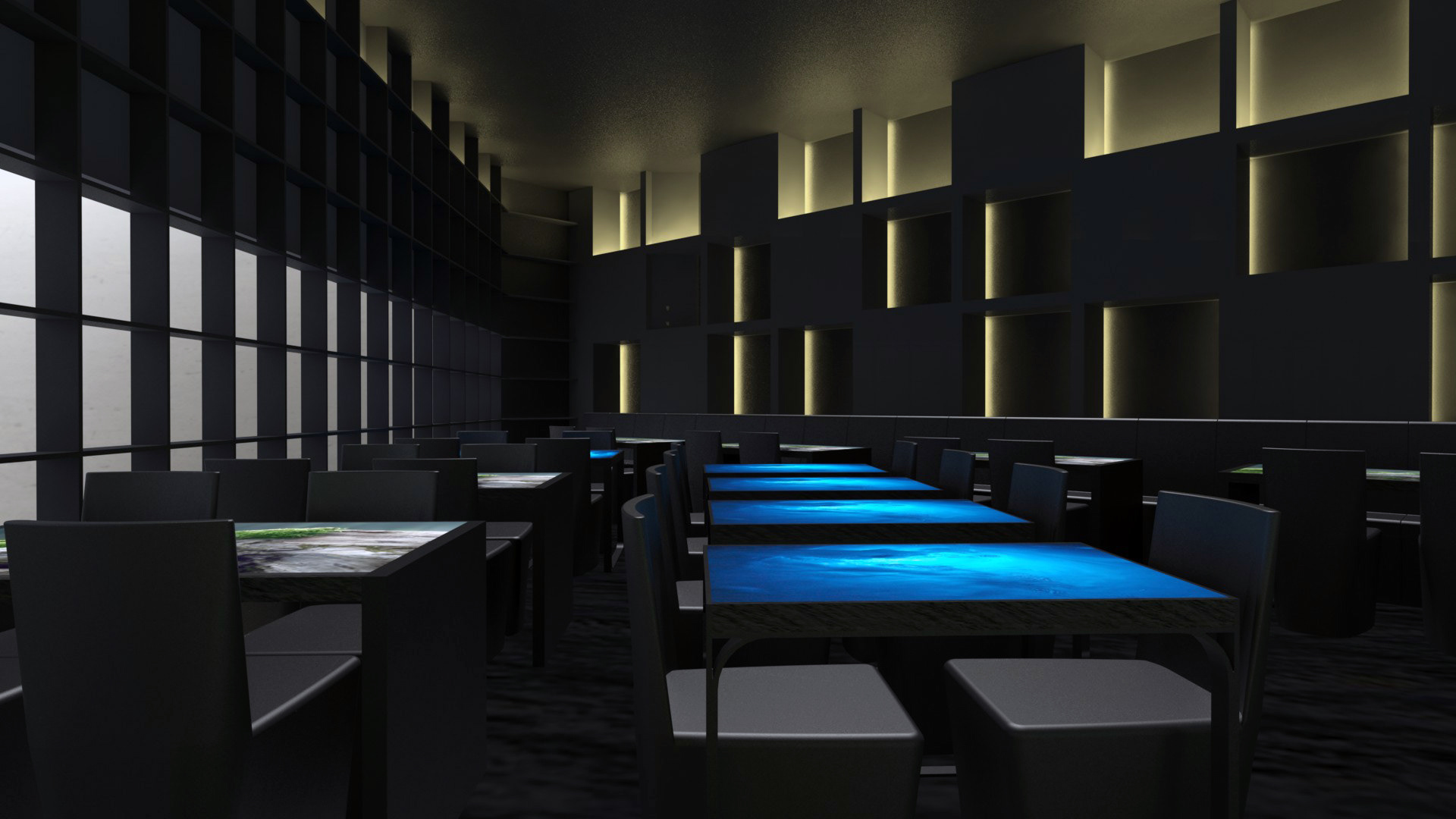 Commissioned in 2013, the client wanted to explore the possibilities of an interactive restaurant located in Business Bay, Dubai. The embedded touch screen capabilities of the table allow the user to navigate a digital menu as well as observe their food being cooked in the kitchen.
Intended to serve two 2 people, the interactive table surface sits on a blackened steel framework supporting a powerful laptop size PC and aluminum heat sink. The two sides of the table are decorated with Nero Marquina Marble sourced directly from a quarry in Spain. The aesthetics and tactile experience of the product attempts to convey a primal, earthly feel to the product juxta-positioned by the high-tech nature of the embedded interactive screen.
The design thinking attempts to investigate the possibilities of furniture embedded with technology and IoT (the-internet-of-things) and how that may affect the user experience.
‐‐‐‐‐‐
外食産業にますますハイテク技術が組み込まれつつある時代の中で最新の技術を使ったインタ‐アクティブ・レストラン「Interactive Restaurant」のためにデザインされたインテリアとテーブルです。タッチスクリーンを備えたテーブルでは、デジタルメニューを使って注文できる他、注文した食事が厨房で調理される様子も見ることもできます。
タッチスクリーンは、黒く染められたステンレス製のフレームワークによって支えられています。スクリーンの裏には強力なノートパソコンとアルミのヒートシンクが備えられています。スクリーンの両側には、スペイン産の黒い大理石「Nero Marquina」を装飾。大理石を使うことによって、テーブルのハイテクな性質とは対照的に、食材の源である自然との繋がりも表現しました。
「Internet of Things」の技術が進む中、家具や室内にどのようにインターネットの技術を組み込ませることができるのか考えています。