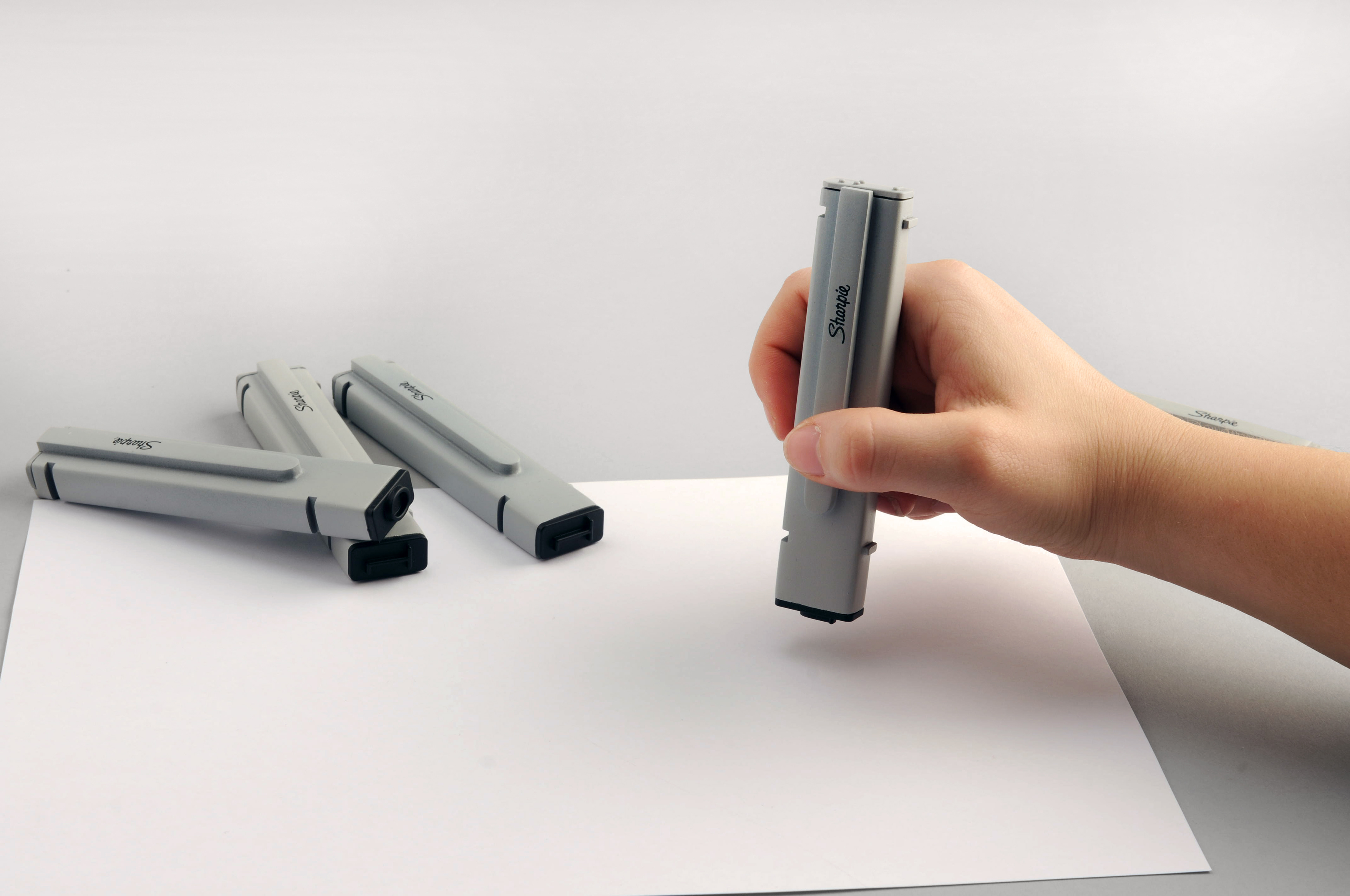 Sharpie is a very visually orientated brand due to their sales in graphic markers. Their emphasis is on empowering a broad range of users with creative expression. While it's high contrast characteristics also empower people with visual disabilities to write by hand, could we imagine alternatives that rely less on vision?
While it was easy to explain the nature of problem for people directly affected by visual impairment, we found it sometimes difficult to explain the concept. People who weren't directly affected found it hard to imagine the problem. We realized our approach needed to be far more inclusive. The experience needed to be engaging for a wider range of people so that the activity could be completed with friends and family. Our thinking led to propose designs that feel easy to be creative for as many people as possible.
We proposed a solution that expands the ability of expression for users with visual impairment by using a combination of braille aided stamps. It allows the user to construct words and sentences using braille, and a rail formed in the process allows flexible positioning of upper and lower lines. The sentences can then be reviewed before stamping on a paper surface using a built-in ink dispenser. It was important for the text to be written without having to rely on vision. The font for the stamp was developed further to create a hand-crafted effect. 
The stamps are designed to express simple messages on post-its, or write greeting cards that need to feel intimately written. The writing activity is recommended to be completed with friends and family, working together to express the user's message. By re-imagining the role of designers as people who act to bring people together, we tried to find opportunities that allow interaction and to overcome problems, not individually, but as society as a whole.
‐‐‐‐‐‐
視覚障害者のニーズを考えたシャーピー(Sharpie)ブランドの文房具セットのデザインです。組合わせ機能がついている判子を合体し、押すと内蔵されたインクにより、アルファベットの文章が生まれます。各判子の上端には点字がつけられ、触感に頼りながら文章を作成し、押す前にその内容が確認できます。ちょっとしたメモ・グリーティングカードなどの作成を対象とし、押しながら手書きのような温もりが表現されることを心掛けました。
シャーピーはマジックペンを専門とするブランドです。小学生でもプロのデザイナーでも使いやすく、欧米では近くのスーパーなどで安く販売されているため、幅広いユーザーから親しまれています。 マジックペンで書いた場合、他のペンと比べて字の線が太く読みやすいため、視覚障害者にも人気があります。 しかし内容を確認したり、書く作業は目に負担が掛かります。丁寧に書けない、書く時間が予想以上に掛かる、相手に気持ちが伝わらないなど、様々な問題もあります。点字など触感を使うデザインを考えています。
さらに、家族や友人との交流も深めることが大切だと感じます。 しかし、障害を体験していない限り、問題を理解するのが難しいと分かりました。使い方が分かりやすく、パズル感覚が感じられるように工夫し、使いながら誰でも一緒に楽しい時間が過ごせるように考慮しました。周りの人たちの力が集められる作品を目指しました。
視力と関係なく、人と人との繋がりが深まる切っ掛けをつくるデザイン。 解決策を提供するだけではなく、障害そのものについて理解を膨らませ社会全体として向き合えるように思いました。